History of Baltimore, MD Cadillac Dealerships (1903-1928)
History of Washington, D.C. Cadillac Dealerships (1903-1979)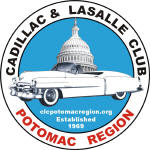 Cadillac & LaSalle Club
Potomac Region
"The Standard of the World Wide Web"
Scandinavian Classic Car Owners
visit to the Washington, DC area
July 3, 2013
Photos courtesy of Richard Sisson
The Lincoln Highway 1913-2013 Centennial Tour group of 100+ people and 70+ cars from Scandinavia was in the Washington, DC area on July 3rd and 4th. The pictures below were taken by Richard Sisson, who visited with them on July 3rd at their Gaithersburg, MD hotel. 39 of the cars (a few of which were Cadillacs) participated in the 4th of July parade in Washington, DC, as organized by Randy Denchfield. Afterwards, they continued on to Pittsburgh, PA. The tour is scheduled to end on July 26th in San Francisco, CA. To read more about the tour, visit www.lh2013.com.