After several rainy weekends, Sunday October 25th dawned crisp, clear and sunny – the Cadillac gods were smiling on the Potomac Region for its annual fall show at Capitol Cadillac. Following the tradition of using special themes for each year's Fall Show, this year's event honored the 75th Anniversary of Capitol Cadillac.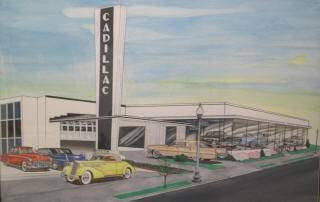 Founded in 1934 in the depths of the depression, Capitol Cadillac succeeded the former Washington Cadillac Co., which had been located on Connecticut Avenue. Capitol established its home in the 1200 block of 22nd Street, N.W., where it remained for 45 years before relocating to Greenbelt, Maryland in 1979. Perhaps even more remarkable than the dealership's continuity is the fact that it has remained in the ownership of one family for the entire duration. Floyd Akers founded the dealership, and the helm of the company later passed to his son-in-law Howard Jobe, and then to Howard's son (Floyd Akers' grandson) Daniel Jobe.
Capitol Cadillac and Daniel Jobe have hosted Potomac Region shows since 1992. Their support has enabled our club to hold events that have captured the imagination of the antique car hobby. To recognize this relationship as well as Capitol Cadillac's milestone anniversary, the Potomac Region commissioned the creation of four very special posters, designed by Trevor Reed and Dan Reed, to reflect the special theme of each of our four most recent Fall Shows (see below).
Fall 2005 - Celebrating V-12 and V-16 Cadillacs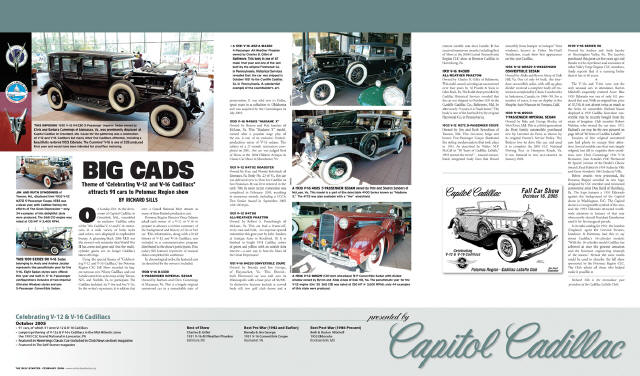 Fall 2006 - Eldorado Extravaganza: 1953 - 1966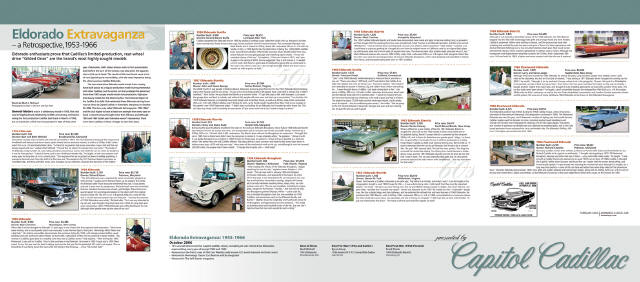 Fall 2007 - Legacy of LaSalle (to celebrate the 80th anniversary of that marque)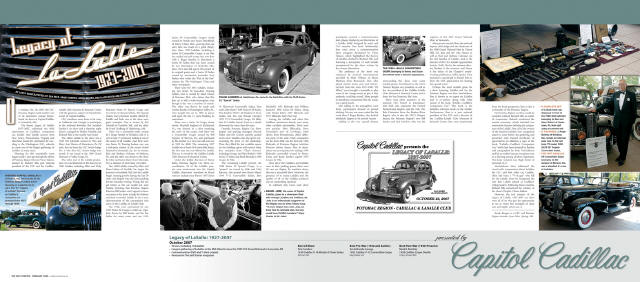 Fall 2008 - Cadillac Dream Cars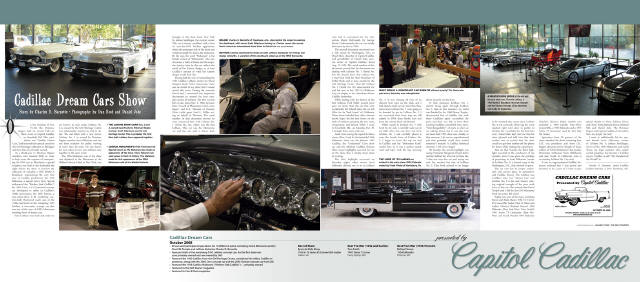 Region Director Vince Taliano presented these posters to Daniel Jobe as a token of the Region's appreciation.
Following the theme, the show gave special honor to cars sold new by Capitol Cadillac from its old location in Washington, D.C. – that is, cars sold new by Capitol in 1979 and before. These cars, in effect, are the alumni of the dealership, returning for a homecoming celebration. A commemorative program included the descriptions of the cars, the names of their owners, and a short history of each car.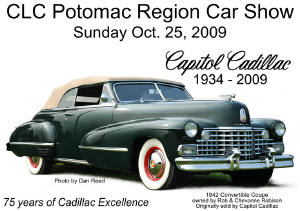 One fact that distinguished the Capitol Cadillac alumni cars honored at this show is not only that they were sold new by Capitol, but that their past history is sufficiently known to establish that lineage. In the antique world, this is known as a "provenance" -- an item of known origin with a traceable history. For example, the car featured on the dash plaque (pictured right) – the Robisons' 1942 convertible – was sold new on December 19, 1941 to Admiral Harold Stark, the Chief Naval Officer in the U.S. Navy, who then resided at the Naval Observatory. It is not surprising that some special influence was needed to take delivery of a new Cadillac convertible within two weeks after the Japanese attack on Pearl Harbor plunged the nation into World War II. Admiral Stark's family retained the car until 1962, when it was sold to Frank Pinola of Harrisburg, PA (current Central Pennsylvania Region Director). Frank owned the car for 40 years until selling it to Rob & Chevonne in 2002. It is delightful to see such a beautiful, rare and authentically restored car, but (in the author's view) it is even more wonderful when the history of the car can be traced back to "day one". And when "day one" took place at Capitol Cadillac, what better could one ask for? Below is a brief history on each of the honored "alumni" cars (in year order):
1941 Series 75 Seven Passenger Formal Sedan - Owner: Prime Tours & Travel, Inc., Camp Springs, MD - Shipped new to Capitol Cadillac on December 4, 1940 and sold to the Mayflower Hotel in Washington, DC - Used by the hotel until 1947 - Purchased by the current owner (fifth owner) in October 2006 and has been used for weddings and anniversaries - Won Best of Show at the Spring 2008 Capitol Cadillac / CLC Potomac Region Car Show and recently featured in the movie My One and Only starring Renée Zellweger
1942 Series 62 Convertible - Owners: Rob & Chevonne Robison, Yorklyn, DE (see above)
1947 Fleetwood Series 60 Special - Owners: Juan & Betty Aranda, Sunderland, MD - Purchased by the current owners in 1966 - Car was being stored in the Cathedral Apartments Garage in Washington, DC with 8K miles - Driven to the first-ever CLC Potomac Region meeting held at Ron Van Gelderen's house in January 1969 and was regularly driven to region events throughout the 1970s - Won Dealer's Choice Award at the Fall 2005 Capitol Cadillac / CLC Potomac Region Car Show
1949 Series 62 Sedan - Owners: Randy & Susan Denchfield, Chevy Chase, MD - Sold new by Capitol Cadillac to Franklin Fisher of Washington, DC on January 19, 1949 - Original owner died in 1953 and his widow kept the car in an underground garage for the next two decades, only driving it annually for its safety inspection and maintenance check - In 1973, the widow died and the car was sold to its second owner, who kept it in storage for the next 33 years - Current owner purchased the car in 2005
1953 Fleetwood Series 60 Special - Owners: George & Rita Boxley, West River, MD - Sold new by Capitol Cadillac to Sue L. White of Washington, DC on September 29, 1953 - This model has its own exclusive 130 inch wheelbase - Purchased by previous owner from the Jenkins Museum in North Carolina, where it was restored to its current condition - Won Dealer's Choice Award at the Spring 2008 Capitol Cadillac / CLC Potomac Region Car Show - Vehicle purchased by current owner in late 2008
1958 Eldorado Brougham - Owner: Thomas H. Murphy, Front Royal, VA - Sold new by Capitol Cadillac to Leopold Freudberg of Washington, DC - Second owner purchased the car in 1962 - Car remained in the family for 16 years following the second owner's death until purchased by current owner in 1988 - Won 1st Place in the Cadillac/LaSalle Class at the Sully Plantation Father's Day Car Show in 2008 and 2009 - One of only 304 Eldorado Broughams produced in 1958
1966 deVille Convertible - Owner: Mark E. Brodsky, Chevy Chase, MD - Sold new by Capitol Cadillac to Lawrence Levy of Washington, DC on November 22, 1965 - Current owner first saw the car in 1970 when leasing a warehouse in Kensington, MD - He told the leasing agent to call if the car was ever for sale, eventually buying the car in 1978 for $1,100 (his first collector car) - After 31 years of ownership, the emotional attachment to the car is strengthened by the Capitol Cadillac connection
1967 Eldorado - Owner: Daniel Jobe, Greenbelt, MD - Originally sold by Capitol Cadillac in the fall of 1966 - Traded back to Capitol Cadillac by the original owner with only 33K miles - Car has since been through an extensive restoration and received numerous awards at CLC Grand Nationals, including a Senior (#258) in 1997 in Illinois - Displayed at the 2007 Glenmoor Gathering Invitational in Canton, Ohio featuring "Cadillac: Standard of the World"
1973 Series 75 Formal Limousine - Owner: Daniel Jobe, Greenbelt, MD - Delivered by Capitol Cadillac to the White House Motor Pool to be used as First Lady Pat Nixon's official car - After completing its service at the White House, the limousine was resold by Capitol Cadillac to a funeral home in West Virginia - Capitol Cadillac eventually reacquired the car from Jenkins Restorations in North Carolina with only 24K miles - Car has been mildly restored to its current condition
In addition, three other Capitol Cadillac alumni cars were pre-registered but were not able to attend – a 1941 Series 63 Sedan owned by Emerson Duke of Greer, SC; a 1946 Series 61 Sedan owned by Jim Thompson of Monticello, FL; and a 1968 deVille convertible owned by Everett Greenstreet, Jr. of Bethesda, MD.
At 10:00 AM, DJ Mikey officially opened the event with the traditional playing of the National Anthem. Throughout the day, Mikey provided the musical background for the show, and made timely announcements regarding judging, refreshments, etc. By lunchtime, folks were gathered at Roy's Concessions to enjoy a variety of items including bar-b-q, hamburgers, chicken tenders, freshly-made french fries, etc.
The beautiful weather brought 80 cars to the show, including the honored "alumni" cars in the showroom and three other cars sold new by Capitol Cadillac in its present location – a 1986 Fleetwood Brougham owned by Larry Lane of Gaithersburg, MD; a 1993 Sedan deVille Spring Edition owned by Mary Moscati of Upper Marlboro, MD; and a 1996 Fleetwood Brougham owned by Jeff Gurski of Potomac Falls, VA. The show cars represented the states of Maryland, Virginia, Pennsylvania and Delaware, and the District of Columbia.